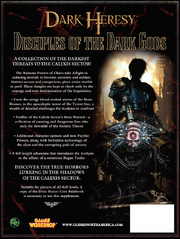 "Disciples of the Dark Gods" is a Dark Heresy Sourcebook.
Contents
Edit
INTRODUCTION
CHAPTER I – Shadows of the Tyrant Star

Using the Hereticus Tenebrae

CHAPTER II – Hereticus

The Nature of the Enemy
Psykana Obscura
The Temple Tendency
The Logicians
The Pale Throng
The Night Cult

CHAPTER III – Xenos

The Acute Threat of the Alien
The Manifold Dangers of the Alien
The Cold Trade
The Amaranthine Syndicate
The Beast House
The Cryptos
The Halo Devices
The Curse of Solomon

CHAPTER IV – Malleus

The Malefic Powers
Chaos Rituals
The Dark Art of Sorcery
Unhallowed Relics, Wards, and Weapons
The Pilgrims of Hayte
Anteanism
The Brotherhood of the Horned Darkness
The Vile Savants
The Menagerie
The Murder Room

CHAPTER V – The Enemy Within

Discord within the Powers Temporal and Spiritual
Discord and Conflict within the Inquisition

CHAPTER VI – The Hunted: Wanted Heretics of the Calixis Sector
CHAPTER VII – The House of Dust and Ash
Ad blocker interference detected!
Wikia is a free-to-use site that makes money from advertising. We have a modified experience for viewers using ad blockers

Wikia is not accessible if you've made further modifications. Remove the custom ad blocker rule(s) and the page will load as expected.